Avid Certified Training Terms
Cancellations or transfers at late notice can have a serious impact on the viability of a course and can preclude others from attending a previously full course.
We will accept cancellations and transfers to courses scheduled more than 14 working days in the future at any time without a charge. However, if your cancellation or transfer is received at short notice the following charges will apply: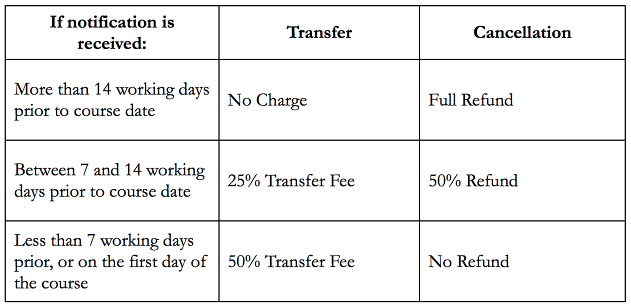 We are happy to accept substitutions (presuming the required course prerequisites are met) at any time without charge.
We reserve the right to cancel a course that does not meet minimum attendee numbers up to 14 days prior in which case, you will be offered the choice of a transfer to alternative date or a full refund of all monies already paid. We understand the you need to make time and travel commitments to attend training, and we do our best to run to the advertised schedule.
A 50% deposit is required to confirm your booking with payment in full due 7 days prior to the start of your course
If you have any questions, please feel free to contact us.
Back to Avid Training